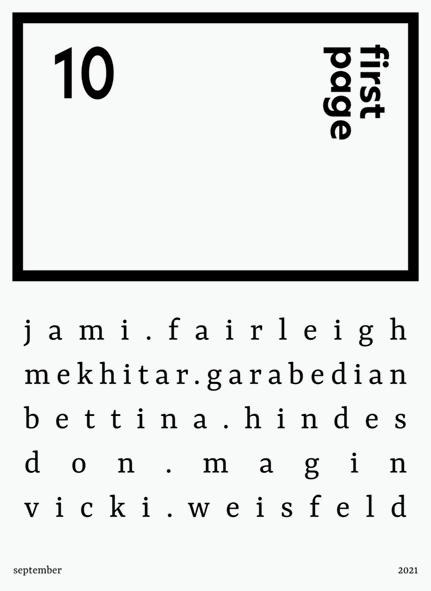 download the issue here for free
Jami Fairleigh is a writer, urban planner, and hobby collector from Washington. She shares her life with a husband, a trio of well-mannered horses, a pair of dubiously behaved parrots, and one neurotic dog. Her writing has been published by Amsterdam Quarterly, Defenestration, Terror House Magazine, and Horror Tree. You can find her and more information about her writing on her website or her Twitter: jamifairleigh
Mekhitar Garabedian (°1977, Aleppo, Syria) lives and works in Antwerp, Belgium.
Deploying a variety of media such as drawing, video, photography and installations, many of Mekhitar
Garabedian' s works draw from his experience as an immigrant and play on the humour and poetic qualities he finds between languages, cultures and histories. Just as his personal diasporic history is layered, his work echoes with a multiplicity of references to literature, music, philosophy and visual arts.
Mekhitar Garabedian is currently affiliated with KASK/School of Arts, Ghent, as a postdoctoral researcher, professor Media Art and Photography. He is represented by Baronian Xippas, Brussels.
Garabedian's work has been presented in solo exhibitions at Bozar, Centre of Fine Arts, Brussels, 2015, S.M.A.K., Ghent, 2011, KIOSK, Ghent, 2010. His work has appeared in group exhibitions such as: Periphery, Kunsthal Extra City, Antwerp, 2021, The Collection (1), Highlights for a Future, S.M.A.K., Ghent, 2019, Shaping Light, CAB, Brussels, 2018, Art and Alphabet, Hamburger Kunsthalle, 2017, The Absent Museum, WIELS, Brussels, 2017, Kum Kapi, Gulbenkian Foundation, Lisbon, 2016, Armenity/ Hayoutioun, National Pavilion of The Republic of Armenia, Venice Biennale 2015, Between the Pessimism of the Intellect and the Optimism of the Will, Thessaloniki Biennale 2015, Here and Elsewhere , New Museum, New York, 2014, … learn more about Garabedian here
Bettina Hindes is a writer and German translator living and working in Berlin. She is interested in paradoxes, contradictions, people, culture, and being human. She served in the U.S. Army from 2003 to 2007 as a Persian-Farsi linguist and earned her master's in Persian at the University of Maryland in 2008. After leaving the defense industry in 2012, she studied theology in Stuttgart, Germany. She is pursuing her master's of fine arts in creative nonfiction at Carlow University in Pittsburgh and is writing a memoir. Her poetry, essays, and other creative writings have been published in Stadtsprachen Berlin, The War Horse, Wanderlust and Human Parts, amongst others. Check out Hindes' work on her website
Don Magin, husband, father, grandfather, greatgrandfather, retired chemist (reborn as a science and math teacher), and Santa-Claus-look-alike, has lived in Bon Air, Virginia for 45 years, although he and his wife Margaret will always call upstate New York home. He has had stories and poems published in Grand Magazine, Guide Magazine, Short Humour, Central Virginia Poetry Bard Magazine, Microhorror, Flashes in the Dark, Necrotic Tissue, The Shine Journal, Sylvia, and other online and print publications.
Vicki Weisfeld's short stories have appeared in Ellery Queen Mystery Magazine, Sherlock Holmes Mystery Magazine, Mystery Weekly, Black Cat Mystery Magazine, and various anthologies. Two stories have won top awards from the Short Mystery Fiction Society and the Public Safety Writers Association. Her blog is at vweisfeld.com, and she's a reviewer for the UK website, crimefictionlover.com. Her first novel is under contract with publisher Black Opal Books.